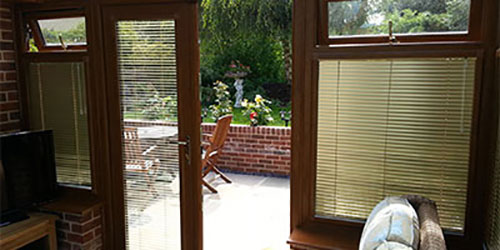 5 Tips for Choosing the Perfect Conservatory Blind
Posted on January 18, 2021
Conservatories are a bright and roomy addition to modern homes, so to complement them it is vital to choose the most suitable blinds for your conservatory windows. Choosing the right window and conservatory roof blinds will add to the overall aesthetic of your room. Blinds are also a practical addition to your room in that they help to regulate light and temperature. That said, there are certain factors to consider when picking the right blinds for your room. Here are five tips to help you make the perfect choice for your conservatory.
Tip #1 – Lighting
While allowing natural light to fill your room is one of the attractions of having a conservatory, there are potential issues. Direct light can lead to problems with glare, UV rays and heat. As such, blinds for conservatory windows will give you control over the amount of light that enters your room. Choosing blinds with an opaque finish will give the room a soft ambient glow, while vivid shades will brighten the appearance of your conservatory in even the dullest of weather. Perfect Fit Cellular blinds are also an ideal solution for any conservatory, allowing you to control both temperature and light. The honeycomb design traps air, keeping rooms cooler in summer and warmer in winter.
Tip #2 – Conservatory Usage
Conservatories are versatile and can have a number of different uses. Perhaps you use it for an indoor garden, for entertaining guests, or as a general family room. Whatever purpose you have in mind for your conservatory will influence your choice of conservatory blinds. Vertical blinds are effective for controlling light while pleated blinds are ideally suited for family rooms. Intu or Perfect Fit blinds are also a great choice; providing a sleek solution which fits perfectly into your window surrounds, without the need for drilling, screws, or cord pulls. The purpose of your conservatory should determine the type of blind you purchase.
Tip #3 – Safety
While you will want stylish and practical blinds for conservatory windows, you must also consider safety factors if you have children or pets. Some blinds can pose a risk if a child should become entangled in the cords, either by play or by using them to climb. For very young children there may be components of the blinds that could pose choking hazards. Ensure you purchase blinds that are child safe compliant, such as Perfect Fit blinds. Perfect Fit blinds come in a range of styles, but their winning feature no free hanging strings – simply operate the blind by hand or pole.
Tip #4 – Colour and Theme
Colour and theme have the biggest effect on how your blinds complement the aesthetics of your conservatory. Choosing conservatory roof blinds and window blinds in neutral colours is a safe choice, which will compliment a number of colour schemes. For a brighter and roomier look, bright pastel colours are the best option. On the other hand, darker colours will create a more private and intimate space. Ultimately, your blinds should complement the overall style of your home.
Tip #5 – Perfect Fit Blinds
Perfect Fit blinds are one of the best and most common types of blinds for conservatory windows and rooves. Perfect Fit blinds slot into window and roof frames easily without the need for screws or drilling. The blinds take up little  space and become part of the window, making it one of the most unobtrusive blinds around. They can easily open and close to provide ventilation and shade and come in a range of colours and fabrics, including pleated and cellular.
Perfect Conservatory Blinds With Othello Blinds
For almost 40 years Othello Blinds have been providing blind, shutter and awning solutions to customers throughout East Anglia. We offer a range of high quality products at competitive prices, and all with a five year guarantee. For the perfect blinds for your conservatory, contact Othello Blinds today.
Contact Us