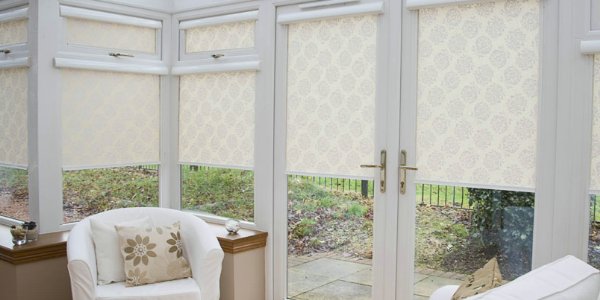 Different Types of Blinds to Consider for Doors
Posted on February 15, 2021
If you're looking for blinds for French doors, conservatory doors or patio doors, there's a huge range to choose from. Would a roller blind be best, or something more contemporary? Should you go for plain or patterned, fabric or wood?
Here at Othello Blinds we have the answers. We've been supplying blinds, shutters and awnings for over 35 years, and we're happy to share our knowledge and experience. From Venetian blinds to wooden shutters, we can offer advice on the right choice for your home. Read on to discover more about different types of blinds for doors.
The Benefits of Door Blinds
The number one benefit of blinds has to be the chance to save money on heating bills. Sunlight through a glazed door will bring warmth to a room; but that heat will disappear when the sun goes down. Closing your blind in the evening will help retain the warmth that builds up during the day. On the other hand, on hot summer days, blinds will help to keep the room cool.
The question of privacy is also a factor, as doors tend to be taller than windows. This can leave you even more exposed to the gaze of curious neighbours or passers-by. If your privacy is important, a blind is the perfect solution. A blind that blends with your existing decor can also add a dash of style to the appearance of a room.
Blinds for French Doors
For kitchen and living room doors, your existing colour scheme will be a factor to think about. Roller blinds are available in a wide range of styles and fabrics, so could be a good option. Roman blinds are also a good choice, bringing elegance to any period style room. Because they're fully lined, they provide extra insulation in cold weather. Venetian blinds give you more control over the amount of light you want to let in. They also offer a touch of sophistication, whatever the style of your property.
Conservatory Door Blinds
For conservatory door blinds there are some practical points to consider. Many conservatory doors are uPVC, so you may wish to avoid blinds that require screw fittings. Intu and Perfect Fit blinds are quick to fit, with no drilling or screwing required. The doors can be opened and closed with the blinds in place. There are no cords or loops, either, so they're ideal for homes with children or pets. Available in a wide range of materials and styles, they're great for colour coordination, too.
Patio Door Blinds
Many people use their patio doors regularly, so convenience is important when considering patio door blinds. It is best to avoid blinds that need to be raised or opened every time you want to use the doors. Vertical blinds offer sophistication and style, as well as being easy to use. Operating  vertically rather than horizontally, they can be left partially open for easier access to your outside space. They also offer more control over room temperature, and can provide privacy while still allowing light in.
Bi-Fold Door Blinds
The latest trend in open plan living is bi-fold doors, allowing home owners to open up their living space to extend into the garden when the weather permits it! Because of the way these doors stack back against one another, conventional blinds would get crushed or prevent the doors from folding flat. Micro Intu blinds have been specially designed to suit this purpose. They are narrower still that our already excellent Intu system, allowing fixture to each individual panel discretely and unobtrusively, allowing the doors to open and function fully.
For more information or advice on any aspect of blinds for your home, call the friendly team at Othello Blinds today.
Contact Us