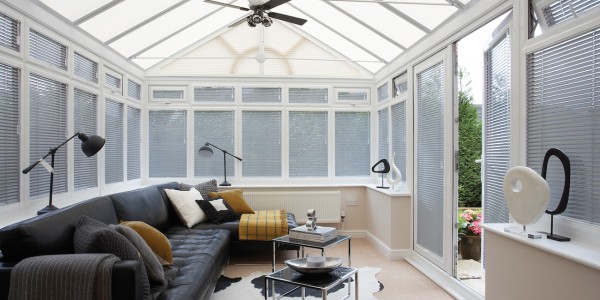 REASONS WHY YOU SHOULD CONSIDER CONSERVATORY BLINDS FOR YOUR HOME
Posted on November 1, 2019
Conservatories are a great addition to any home but are notoriously difficult to heat or keep cool depending on the time of year. When approaching the winter you can definitely start to feel cold enter your home through an uninsulated conservatory. While there are many options to thermally insulate your conservatory, many of them can be costly and out of the average budget.
Installing blinds in your conservatory can be budget-friendly and thermally efficient. There are many benefits to enjoy as well, here are our top reasons why you should consider blinds for your conservatory.
CONSERVATORY BLINDS HELP MAINTAIN THE TEMPERATURE THROUGHOUT YOUR HOME
A room made of glass is the main attraction when it comes to conservatories. Many homeowners enjoy taking time out to sit and relax in a space that brings the outdoors inside, especially in the summer. Unfortunately, due to the poor insulation in conservatories, many homeowners choose not to utilise their conservatories in the winter due to the cold weather.
Installing conservatory blinds will help insulate your conservatory by trapping the heat to make the space usable during the colder months. Conservatory blinds are also a great investment for the summer as well as they will help block out infrared light. Preventing excess heat from building up inside. 
CONSERVATORY BLINDS GIVE YOU ULTIMATE CONTROL OVER LIGHT.
Conservatories are a great source of natural light, although sometimes with harsh sun rays the sunlight reflecting on the conservatory glass can be too bright and quite intense. 
You can have a much-increased control over the amount of light entering your conservatory when you install new conservatory blinds. You can enjoy your conservatory throughout the day, without the additional glare from the sun putting a strain on your eyes.
CONSERVATORY BLINDS IMPROVE PRIVACY AND CAN BLOCK OUT DISTRACTIONS
As we mentioned conservatories are a great way to experience the nature of your garden while sitting comfortably inside your home.

Your garden views may be spectacular, however, this also means that some prying eyes are able to look into your home. When opting for conservatory blinds you have ultimate control over the privacy of your home, being able to close out unwanted onlookers. 
Blinds can also be beneficial when it comes to utilising your conservatory space. As conservatories are added floorspace, you can have free range with what you want to do with it. If you choose to use your conservatory as a playroom, conservatory blinds can be useful to block out any distractions from children.
WHAT WE CAN OFFER YOU
Are you interested in conservatory blinds? At Othello blinds, we have a broad range of both window and roof blinds to choose from. All of our blinds are made to measure and fully fitted and installed by our expert team.  
Our blinds can be tailor-made to your order! We offer fabrics and materials specially designed with heat-reflective backing and insulation properties, that not only help control the temperature of your conservatory but can also help save you money on household bills. 
Contact us to find out more about our full range including, Venetian, pleated and vertical blinds.
Contact Us