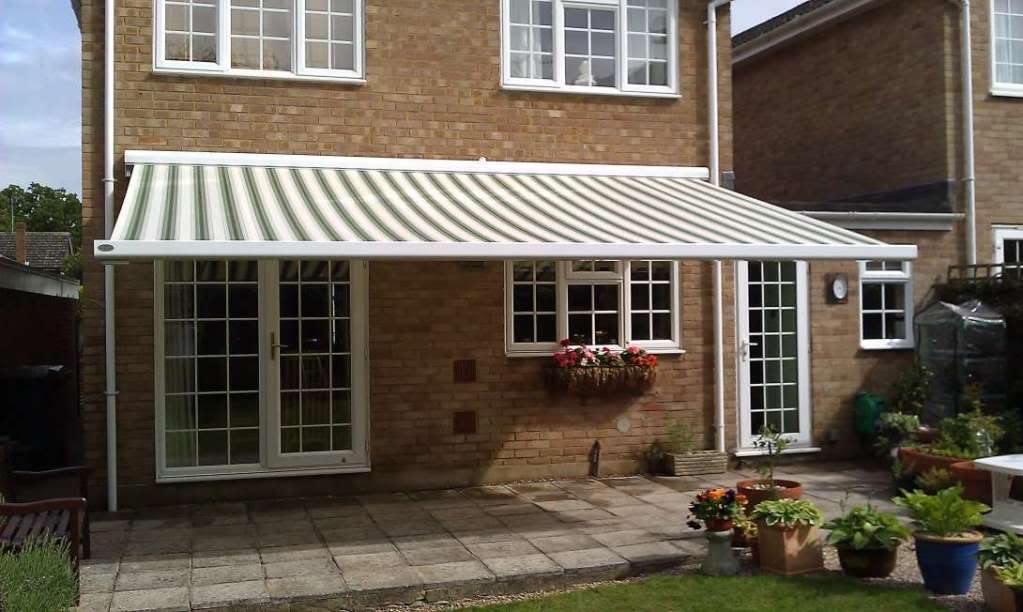 The Benefit of Garden Awnings
Posted on September 11, 2020
If during these strange few months you've spent more time than usual at home and in the garden looking at ways to enhance your home and outdoor space, you could consider a garden awning!  Sometimes known as a retractable patio awning, these modern marvels offer a range of features for you to enjoy. Lets take a quick look at what makes an awning unique, as well as the services that Othello Blinds can provide for you.
The Benefits of a Retractable Canopy
Garden awnings are ideal to use during the summer months, and for good reason! They provide shade and protection to not only the room they are installed above, but provide a shaded sitting area for you, your friends and family on a hot Summer's day when it's just too nice to be sat indoors. Come the evening when things start to cool off, they give that sense of shelter; and if combined with an outdoor patio heater, help focus that heat where its wanted. At the end of the night, simply press a button and away it goes. Our awnings are what we call showerproof – light rain will roll off the top, but please note they are not waterproof and heavy or persistent rain will eventually permeate the fabric.
While awnings are highly functional and built to last, there are several other reasons why they can make an excellent addition to your garden. Our selection of awnings have been designed to be user-friendly. Installation is straightforward and they are suited for numerous purposes. Whether you are celebrating a birthday party, enjoying a few cocktails, relaxing with a good book, or planning a family BBQ, they will undoubtedly come in handy – rain or shine.
Aesthetics are a final point to mention. After all, an awning canopy should be in-keeping with the existing decor of your property. The good news is that Othello Blinds offer a number of bespoke solutions, designs and colours, so we can help you to find the perfect addition to your outside space.
Choosing a Retractable Canopy from Othello Blinds
Othello Blinds have been providing quality retractable patio awnings and other accessories throughout Suffolk and Essex for over 37 years. During this time, our installers have developed years' of experience providing new awnings for homes and businesses, as well as repairing, re-covering and upgrading existing canopies. Here are some of the options available to you:
Folding arm awnings
Drop-arm designs
Awnings for conservatories
Configurations for commercial use.
Would you like to learn more about our range of garden awnings? Are you interested in taking advantage of our additional services such as awning repairs or re-coverings? If so, please take a moment to send us an enquiry. We will be happy to answer any questions that you may have, or arrange a free, no-obligation home visit, so that you can make the right decision for your home.
Contact Us