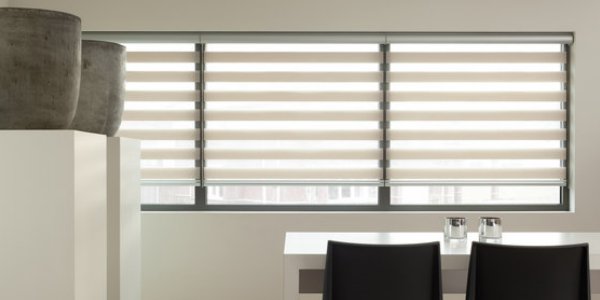 What are Day and Night Blinds?
Posted on February 1, 2021
If you are looking for roller blinds that offer complete control over privacy and shading, then day and night blinds are for you. Also known as Vision Roller Blinds, Day and Night Blinds feature double layers of alternating colours, one translucent (day) and the other opaque (night). When opened and closed, the blind layers rise and fall in alternating patterns. This allows you to control the amount of light and shade that comes through to create distinctive lighting effects. So, how exactly do day and night blinds work and where are they most useful? Let us look further at the functions and benefits of these blinds.
How Day And Night Blinds Work
As mentioned before, day night blinds feature dual horizontal layers of overlaid fabric. The translucent layer is called a day blind and is designed to allow light to filter through. The opaque layer is the night blind and shuts out light. As you open the blind the front layer falls while the back rises, and vice versa when closed. By controlling the alternating fabric layers you can control the amount of light that streams through the day layers until closed up by the night layers. This creates unique lighting and shading conditions for your room.
Where Can Day And Night Blinds Be Used?
You can use day night blinds in almost any room in the house and they especially suit contemporary and minimalist interiors. Because they offer privacy while still allowing light in they are great for windows overlooking neighbours or public areas. These blinds are most suited for these locations:
• Lounges and dining rooms.
• Well ventilated open plan kitchen spaces.
• Bedrooms.
• Conservatories where there is a suitable lip to affix the blinds.
The blinds will offer maximum privacy while still allowing plenty of light in. That said, these blinds are not suited for humid areas like bathrooms due to their low water resistance. They are also not recommended for patio doors as they will not completely block out light so are unsuitable where total darkness is needed.
Our Range Of Roller Blinds
At Othello Blinds we offer a range of day & night blinds for your home. But other options include:
• Standard roller blinds that are chain or spring operated.
• Vision roller blinds in double layer fabrics.
• Rechargeable battery-operated roller blinds operated via remote control.
• Perfect fit roller blinds and Intu roller blinds that fit neatly in door and window frames.
• Electric roller blinds powered by mains or battery.
• Roof roller blinds that are perfect for conservatories and other rooms with glass roofs.
These are a few of our blinds on offer. To find out more view our list of roller blinds online.
Why Choose Othello Blinds?
At Othello Blinds we offer high quality blinds, shutters and awnings to customers throughout the East Anglia region. We have been a family business for 37 years and offer a wide range of products at competitive prices. We provide honest and friendly independent advice on all products and services on offer. To find out more, contact us now for a free quote online or via phone. For the best quality day and night blinds for your home, contact Othello Blinds today!
Contact Us